New for 2004
The "Lodge at Buzzard Roost" is a truly Beautiful cabin, perched on the cliff above us with an Eagles eye view of the incredibly Beautiful River Valley below. With 4 bedrooms & 3 1/2 baths, this 'cabin' will sleep 20 comfortably, with single, double, & queen beds, & futon couches. Entering at street level by wheelchair ramp, this "Cabin" is set up to accommodate the needs of a wheelchair bound guest. The 1st floor has a nice sized Living & Dining area with a 10 person Dining table. The flat screen TV with DVD player is also in the dining room corner. The beautifully equipped kitchen can whip up plain to elaborate cuisine. Just off the kitchen is the 1st bedroom, with Queen sized bed, with access underneath to accommodate a lift. Also accessed from the kitchen is a half bath for your guests to freshen up. The 1st-floor bedroom has a full tiled bathroom set up for the wheelchair guest. Downstairs to the basement, we come to the 2nd bedroom, the Bunkhouse, which has 9 single beds, bunk bed style. Another full bath with washer & dryer is between the bunkroom & bedroom number 3. Bedroom 3 has a double bed, and 2 queen sized futon couches. This room has a TV with DVD, & a few local channels. Upstairs from the basement and the main floor is the loft bedroom # 4. This bedroom has a queen sized bed, plus another full bath. Up the spiral staircase to the Cupola is a sleeping nook with a double day bed. Back down to street level the covered porch has your gas grill & screened in porch with personal Hot Tub. The campfire area is out back under a ZILLION stars! Sitting on 27 acres of private land with a pond, your next door neighbor is thousands of acres of Hoosier National Forest. 2013 PRICES: WEEKDAYS: Monday – Thursday $250.00 per night for the 1st two people. Additional guests are $13.00 each per night. WEEKENDS: Friday – Sunday $260.00 per night for the 1st two people. Additional guests are $13.00 each per night. MAJOR HOLIDAYS: $275.00 per night for the 1st 2 people. Additional guests are $16.00 each per night. THERE IS A 3 NIGHT MINIMUM ON HOLIDAYS. THERE IS A 8 PERSON MINIMUM ON HOLIDAYS.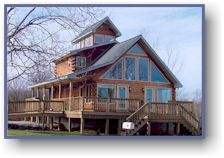 Down from the clouds, let's take a path reserved for someone special…you. Entering the main floor by a gently inclined ramp, you notice the ease of accessibility. Actually, the entire main floor is designed for mobility by wheelchair.
From the spacious interior with 36″ wide doorways to the roll-in, ceramic tiled wheelchair shower and bathroom, comfort is king. Sporting hardwood floors & ceilings, custom cabinetry, beautiful furnishings, and decor, …WOW!… what more? A fireplace in the living room, that's what!
With the outside covered porches, open riverside deck & screened porch, what more? What could be more enchanting than sitting on the riverside deck & watching a spectacular sunrise over the river?  Anything? Perhaps lounging on the screened porch, watching an incredible sunset while soaking in your hot tub!
Sunrise! Screened porch! Hot tub! Sunset!…Wow!
Yes, this is the place that empties and disinfects each hot tub, changes the filters, adds new chemicals, and new city water in between each new guest. Each guest has a new clean spa that no one has been in before you and your family! Our hot tubs each have ozone generators that pump ozone gas into the water, which kills any water-borne bacteria while you are in it! We call this a Cootie-Free-Zone. This is a very safe place for you and your family.
Now after dark, stroll to the open riverside deck and stand in awe of a night sky more star-filled and alive with motion than you have seen in a long, long time. Constellations and shooting stars dance before you in a song of life…This big circle truly is a celebration, day & night, night and day.
Wow! and this is just the first floor!
Bedrooms, bathrooms, sleeping lofts, laundry room – did we mention the fireplace? Depending on sleeping arrangements, the "Lodge at Buzzard Roost" will sleep 22 very comfortably.
The "Lodge at Buzzard Roost" is situated on 20 plus pristine acres of fields, woods, with a beautiful large pond for you and your family to enjoy. Wildlife abounds. Mother nature in her finest regalia! Our large 20 plus acre tract butts up to the Hoosier National Forest. Hiking and Biking trails, hills and dales, incredible wildlife viewing opportunities await you with 60,000 acres outside your door for you to enjoy. (Our fishing pond is catch & release…please don't dine on your finny friends.)
Please…enjoy! Call today to book your vacation! 1-812-719-0955 or e-mail logcabins@psci.net.