April 5th, 2007
Moondance
All the comfort of home, away from home.  Your cabins are beautiful and built with love and care.  We enjoyed our stay; and meeting you.  We will be back again.
-The Crance Family Chris, Jackie and Sean
Grabill, IN
---
May 4th-7th, 2007
Moon dance
We picked up a brochure about Magnet, Indiana at the Boat and Travel Show in Cincinnati.  The booth had outstanding pictures displayed….but could it really be that nice?!  No!  It was so much better than we imagined!!  We brought our boat too.  What an experience!  We practically had the river to ourselves.
We turned the motor off and drifted down river just like Tom and Huck.
There is not just one favorite part of our stay at Moondance.  We'll be back….that's for sure!
-Kenny & Bev, Joe & Sonya
Cincinnati, Ohio
June 10th, 2007
Moondance
All the Relaxation and fun we hoped for!!  The cabin was excellent in every way, we felt very "at home" and comfortable.  Enjoyed plenty of river traffic, visited caves, went canoeing, saw Patton the eagle, and rode jet ski's up and down the river (thanks Bud and Vince!!).  Marcy's BBQ was the best.  Thanks for providing one of the most peaceful weekends we've ever had!
-The Treble's
---
July 6, 2007
Moondance
1 day here is not enough!!!!!
The last 24 hours, we hand truly reaped the blessings of freedom. First a beautiful wedding and now a honeymoon cabin that we've only dreamed about in forever in our life memories.
The river folks were like long lost friends. The food and Pub at Marcy's was the best.  The view of the river and it's wildlife is something that we will never forget.  Who needs to go to Florida or the mountains of Tenn.  When the "Moondance" is only a road trip from home!
– The Bushman's
Darlington, IN
---
September 10, 2007
Moondance
Barges on the river
Deer in the forest
Hummingbirds and butterflies on our patio
Never ending vistas
Falls of the Ohio State Park
Angel Mounds
Peace
Quite
Mornings in the hot tub
Good food
A cabin clean, stocked, restful
What else can we say?
We LOVED our weekend here!!
-Earl and Diana Ramsey
Port Huron, Michigan
-Carolyn and Samantha Burke and Dorothy Menosky
Bloomington, IN
---
Jan. 7th-11th, 2008
Moondance
Bud,
First of all I just wanted to say this has been the best few days I've had in a very long time.  The serenity and beauty out here is unmatched by anyplace at anytime.  This city girl might find herself in the country a lot more often.  Thank you so much!  We will be back!!
-Candice Gnilka and Deven Rhymer
Merriville, IN
---
June 29th– July 3, 2008
Moondance
When we decided to plan out vacation, we decided we wanted to somewhere not too far from home, (gas prices..eww!) but far enough away to feel we got away…we found it!!  The view is amazing, great place to drink coffee in the morning and spend the rest of the day watching the water tugs and barges, birds and wildlife (keep the binoculars close by!) We slept when we wanted, it was just what we needed!  Took a couple of short road trips (after hours) highly recommend the Overlook Restaurant (good food and great view!)  And the Winzerwald Winery (small but has outstanding wine!)  You are close enough to go to different places is you choose, but don't feel bad if most of your time is spent on the porch, very quiet, very relaxing, great wind chime next to the grill!
Also be sure to watch the turkey vultures, not the most attractive bird but they soar through the air beautifully!
Bud, not sure how you found this place, but we are glad you did!  Hope to return sometime! Thank you!
-Charlie and Diane
Indianapolis, IN
---
July 18-20, 2008
Moondance
Well, what else can I say but..WOW!  I will never forget the view.  Morning noon and night, it's all beautiful.  I am sitting here on our last morning listening to the wind chime and the birds singing and reflecting over the past few days of fun and family and I thank God I have been very blessed!  This is a little piece of heaven on earth!  Thanks Bud for everything!  Hope to be back next year.
-Alethea Hendrix
Peru, IN
---
July 28-30, 2008
Moondance
Bud,
This place is gorgeous!  We could not believe how beautiful this place is and the view is absolutely amazing!  This was the perfect place for my dad, brothers and I to get away.  We will for sure be back again to enjoy a very relaxing weekend.  Thank you for sharing this place with others!
-Steve, Malarie, Erik, and Kollin Kolb
Evansville, IN
---
September 26-28, 2008
Moondance
Awesome breathtaking view!!  The Moondance is a far cry from our hectic, busy lives with our 5 daughters ages, 18, 15, 14, 12, and 5.  We rode our motorcycle down here for some much needed "mom and dad" alone time.  It is absolutely gorgeous down here.  We enjoyed riding along the scenic 66 highway beside the river.  Sitting on the porch rocking as the boats and barges pass by was very serene and relaxing.  The people and food were very delightful.  We have brought some very much needed quiet time to our life this weekend.  I can't find the words to describe this place other than Absolutely Breathtaking!  We are already planning a return trip with and without the kids.  Everyone is very friendly and helpful.  Thanks so much Colucci's, what a wonderful get away.  An awesome experience!!  Great memories!
-The Fogel's
Lafontaine, Indiana
Wabash County
---
Sept. 12-14, 2008
Moondance
WOW….Amazing weekend!  Very enjoyable from the minute we stepped in the Moondance.  The weekend was spent relaxing outside on the porch playing cards and a lot of girls gabbing.  Thanks for the memories!  We will be return customers.
-Kelly Fulkerson, Susan Maur, Melissa Blazier, Melanie Heil, Sharon Dartt
Carmi, IL
---
Oct. 6-10, 2008
Moondance
Bud,
Thank you for being here.  We had a fantabulous time.  The hot tub, the tinkelers (chimes) were fantastic.  We all 4 enjoyed our stay here.  It is so homey and friendly.  We feel comfy here.  We have gone all over the country side and got home by dark, but worth every penny.  The barges are great and the river is simply beautiful.  I will love to come back.  We love being here in the fall, it is beautiful when the leaves change.  We saw the ad in the gad-about and we knew we had to come.  Made the reservations the week after it sold us.  Thank You!
-Pat and Bill Denton
West Harrison, IN
---
10-17-08
Moondance
Bud,
Thanks again for a wonderful vacation.  My birthday was extra special with the cake you got for John to have here at the cabin. 
The hot tub, rockers, swing and wonderful music of the wind chimes.  The weather was the best we could have asked for.  I don't know what could have made it any better. 
So here's to you Bud, keep up the wonderful things you are doing to help us find a little peace and quite in our lives.  Until next year!
-The Cleary's
---
December 2-7, 2008
Moondance
Fourth trip to the Colucci's.  We've stayed twice in the Yin-Yang and twice now in the Moondance.  What a relaxing weekend.  We did very little, ate at Betty Ray's on Friday, Marcy's on Saturday, awesome ribs.  Played Yatzee, and read.  The hot tub is always a treat.  Fourteen barges drifted by.  We're looking forward to trip number five, perhaps during a warm season.  What a blessing this place is!
-Steve and Brenda Milntosh
Williamsport, IN
---
February 6, 2009
Moondance
Dear Bud,
Thank you so much for letting us stay here at the Moondance.  You have made our 24th wedding anniversary wonderful.  The cabin was perfect.  The view, the weather, the hot tub was perfect.  Thank you also for the tip for eating at Marcy's, it was awesome!!  We will fill our family and friends about your paradise on the Ohio River.  We will defiantly be back soon!!
-Mark and Becky Jaruis
Greenville, KY
---
April 4-6, 2009
Moondance
The Moondance wrapped us in the warm and radiance we needed to rejuvenate our spirits and minds.  The open view of the Ohio River was like seeing a new moving art masterpiece each day, a farm house scene, a thunderstorm, rainbows over the river and birds feeding in the morning light.  Life stood still as we were able to enjoy earth's magical music through our cabin's backdoor, and it was only made better by being with the one I love.  As we leave today we are celebrating 13 years of marriage that God has given us, usually a lot busier than the last couple of days, but thankfully filled with God's gift of love. 
Sadly we must return to the business of life, but we will return again.
-Lauren and Scott Baker
Greenfield, IN
---
5-26-09
Moondance
Bud,
This was the definition of perfection, I was with my new wife, soul mate and life time girlfriend and the only thing missing was the Pearly Gates.
---
June 24, 2007
The Bonnie Pearl
As a promise to my Grandparents we had a family trip here.  We had all 4 houses in this area and had 34 people total.  In this house 7 adult kids were able to spend the night in the same house again only this time they were accompanied by their spouses.  The other 3 houses were filled with grandkids and great-grandkids, coming from a nearby area in Indiana, Kentucky, and Alabama.
Some hiked, some rented a pontoon for the river, most enjoyed the hot tubs and all enjoyed games, spying on neighboring family houses, sneaking up on some and tormenting others.
It was a great weekend!!  We hope to be back again next year.
-The Higdons
---
The Bonnie Pearl
Friday
Slowly turned to Sunday,
On the day clock
Of the Bonnie Pearl.
The barges, in our
Backyard, slowed
To wave back,
At night, spotlights
Searched for our fun.
Definitions were
Twisted into memories,
For our use,
As free as we all felt,
This pearl was
More than that,
A lustrous gem,
With an inside carved out,
Soon was filled with a
Band of unique visitors
That was never expected,
But always anticipated
Staying still was even/span>
An adventure, and laying to
Rest was only a short break,
Sometimes not planned, but
Much needed.
This is an escape, where,
If you flinch into a beer,
You are a man.
And men we were,
All eight, on an escape.
Bonnie Pearl makes you
Think of everything but….
Thanks Bud!!
-Josh, Nick, Ryan, Danny, Will, Matt, Brian, and Derek
---
July 13, 2007
The Bonnie Pearl
We had a very nice stay at your cabin.  What a fantastic location and the view is amazing.  We got to see the fireworks down across the river from Derby, which were spectacular.  We also got to see the Civil War reenactment at Corydon which our boys were very interested in.  The Marengo Caves were also a big hit, especially the bats hanging above our heads at the entrance.  We also went to the Louisville Slugger Museum, also a big hit with our boys.  There was also plenty of time for the grandparents to rock in the chairs on the deck.  The hot tub was refreshing and also a big hit. 
We had a great time in southern Indiana, and would love to come back and visit again one day.
-The McKimmy Family
California
---
July 24-27th, 2007
The Bonnie Pearl
There's something more interesting going on at the Bonnie Pearl than could normally be predicted, even after taking into account views and the refreshing unique architecture.
Bud, you've managed to anticipate every need with a great looking cabin that is freakishly well equipped, comfortable to be in, and utterly unpretentious design, décor or functionality.  Also, it is the perfect place for secret ukulele practice.  During our time here we enjoyed making various day trips to Holiday World and area caves, but we were most relaxed, most truly "on vacation" during the hours we spent at the Bonnie Pearl.
-The Brockways
---
September 26, 2007
The Bonnie Pearl
Dear Bud,
It fathoms me that we are only five minutes from home and still in a different world down here.  We cannot thank you enough for your generosity and hospitality.  If not for you we would not have been able to take a honeymoon and for that we are forever grateful.  I cannot think of a better, more relaxing way to spend our first three days as a married couple.  We didn't do much, but recover from Saturday's wedding festivities.  However, rocking on the porch and watching and listening to all of the animals was our favorite.  It's so hard to leave and return to the real world.  Thank you for the best wedding gift we received.
-Mr. and Mrs. Wesley Harpenau
---
10/29-31/07
The Bonnie Pearl
Dear Bud,
What a terrific 2 days!  Days filled with memories for a lifetime.  Things couldn't have been more perfect, the weather, the view, and the accommodations.  Thanks for using your talent to provide an amazing retreat from everyday life.  We will be leaving rested and relaxed and with fond memories of Magnet, Indiana and Bonnie Pearl.
-Mark
---
11/27/07-12/2/08
The Bonnie Pearl
Dear Bud,
With the celebration of our 35th Anniversary being over shadowed by the death of our dear friend a week later coming here, you gave us a very pleasant surprise from the Anniversary banner on the front porch to the flowers on the dining table and then finding a Ruby Red Teddy Bear in the dresser drawer as we unpacked.  We felt we came to the right place not only to relax, but to celebrate and reflect on our 35 years of love for each other and also the life times we shared with our dear friend.
The river, the barges, the chimes, the rockers, the stars!  The quite and let's not forget the hot tub made it easy to unwind and find a peace that was much needed.  Thank you for such a wonderful place!  We hope to be back soon!
-John and Esther Cleary
Anderson, IN
---
12-9-07
The Bonnie Pearl
Dear Bud,
What a great weekend experience.  We were celebrating my sister's 60th birthday with great friends, a Sisters' Weekend (sisters by choice!)  The cabin was incredible, the view breathtaking, and the hospitality warm and welcoming.  We hope to make this an annual outing.  Thanks!
-Jones, Linda, Tricia, Marcia and Elaine
---
3-2-08
The Bonnie Pearl
Ten of us had a wonderful time, beautiful stars, fire, view, games, fin and a little business at the picnic tables.  The setting was spectacular and relaxing for a group of adults to get away from it all the brainstorms a little.  So glad we found you on the web!  This is our second time and will be back again!
-Manager's Retreat
Louisville, KY
---
5-4-08
The Bonnie Pearl
To the Colucci's,
Thank you for a wonderful weekend.  To all those that have been here before us and to all of you who follow.  My wife of 20 years and I celebrated our anniversary this weekend.  We enjoyed everything that the Bonnie Pearl has to offer, views, tubs, and most of all each other.  Thank you to the Colucci's for sharing these cabins with all of us and to all visitors enjoy as we all have before you.
-Everett and Lisa Ferrell
---
10-1-08
The Bonnie Pearl
Bud and Sally,
What a beautiful cabin and area.  We enjoyed celebrating our 20th wedding anniversary here!  We enjoyed the Ohio scenic byway on Route 66 and touring the historic sites in the small towns.  We hiked, picked English walnuts, and persimmons in the Hoosier National Forest.  German Park area, we caught catfish in the Ohio, watched the barges past, sat by a fire, star gazed from the hot tub, and allowed the magic of romance to take its course.
-Sage and Lora
---
12-24-08
The Bonnie Pearl
Bud and Sally,
We have just arrived and all I can say is WOW!!  This cabin is fantastic.  We already feel at home.  This is freakin' great!
-Heather (Mosley Party)
---
February 15, 2009
The Bonnie Pearl
Dear Bud,
Thanks for your hospitality friendship and stories.  We are three brothers and sisters-in laws celebrating Valentines weekend together.
This is our second visit to your cabins and are already looking forward to the next visit as we share stories, memories, booze, family, food, booze, friendships and more booze!
-Gary, Donna, Rick, Teresa, Jeff, and Patti
---
April 3rd, 2009
The Bonnie Pearl
One word: beautiful!!  We didn't get to stay long, but one night here was worth the drive in the pouring rain.  We'll definitely be back for a longer stay.  Thanks so much!
-Kira and Danny
---
1-15-05
The Yin-Yang
Thanks for the opportunity to spend some time together.  Had a great time!! See you soon!
-Doug and Lisa
---
May 20th, 2007
The Yin-Yang
Andy and I had a great, relaxing honeymoon here.  Everything was wonderful and special!  Thank you so much for your hospitality.  The place was very clean and had everything we could possibly need.  Hope to see you again!
-Andy and Bethany Wait
---
6/18-21/07
The Yin-Yang
What a wonderful four days of complete relaxation!  We actually made up reasons so we didn't have to leave the cabin.  Spent most of our time on the back deck watching the birds, the bunnies and the very calm Ohio.  There was a lot of traffic on the river which was interesting.  Sure don't miss telephones on T.V.  We really hate to leave, but hopefully will be lucky enough to get back some time later this year.  Thanks Bud for this weekend get-a-way!!
-Dave and Laurie Flickie
---
July 2007
The yin-Yang
This place is absolutely amazing.  My husband and I had a last minute chance to get away for the weekend and happened along these cabins and just can't believe how wonderful they are.  It's been such a relaxing and unbelievable time.  We all live such busy lives and to be able to escape from it all here at your cabins is something words can express how amazing it has been for the both of us.  I find myself not wanting to ever leave.  Thank you Bud for allowing us this experience.  We plan to be back soon to enjoy it with our children.
-Jody and Kevin
---
10/17-19/07
The Yin-Yang
Thank you Bud for sharing your wonderful cabin with us!  We never knew such a beautiful place existed, until this week.  We are four girls here from Jeffersonville, IN for our second annual "girlfriend retreat".  We needed some time away from work, husbands, kids and the craziness of life, and boy did we get it!  I have never been to a more peaceful and quiet and beautiful place, the view is the best!  I came here for some quality time with my friends, laughter, rest and fun, I got all of that plus renewed the special friendships in life that are so important to me.  Thank you again for a beautiful place to hang out and relax, we will be back and also recommend this to our friends!
-Jennet, Sonya, Cyndi, and Terri
---
Sept. 3-5, 2007
The Yin-Yang
Never want to leave!  By far the most beautiful, relaxing, just what we needed weekend yet.  Went hiking at Hemlock Cliffs, got beautiful pictures, great suggestion.  Wine tasting at Winzerwald Winery, great wine!  Our favorite was the Chambourcine (if you like red wines).  Just went to Buzzards Roost, beautiful yet again.  But just simply sitting here in this amazing cabin and soothing hot tub listening to soft jazz with the one I love is by far the best thing of all.  We will certainly be back many times.  Felt welcome the moment we walked in the office.  Your kindness and good energy was so appreciated.  We are very sad to leave today, but happy we chose to make our get-a-way here at your cabins!  Thank you, thank you, thank you so much for such a breathtaking experience.  I can't tell you how many times we've both said aaahhh, this weekend!  Perfect!  Hope to see you again soon!
-Sean and Christina
---
2007
The Yin-Yang
Hello all,
Greetings from 3 out of 4 of the Flikkie family from Louisville.  This is our 3rd trip to Bud's cabins and as expected, it lived up to our expectations and then some.  My parents, who have been here for seven days, invited me up to join them on the last days of their journey.  (I being the eldest son). 
We had a perfect time that included a brisk weather that made the wonderful fire we made, all the more inviting.
We all hope that your time here was as fulfilling as ours.  Take time to breath in the air and let the problems of "real life" melt away.  While you can't but heaven, we feel you can rent the next best thing right here in the Yin-Yang.
-Dave, Lori and Michael
---
2007
The Yin-Yang
Bud and Sally,
I found your cabins by luck on the Internet and am so pleased we took a drive out.  My team of 11 bonded over the past few days and nights.  We cooked some great meals for each other, enjoyed some great wine, but the fellowship and teambuilding was tremendous.  We all learned a little but more about each other.  The Bonnie Pearl made for a very nice "meeting room" in a casual atmosphere, without any distractions this was one of our most productive meetings.
-Scott Gruenberg
---
2/23-24/08
The Yin-Yang
A wonderful weekend at the perfect little getaway spot that seemed to bring us even closer together!  It was great to be somewhere where we could relax without the distraction that every day life brings us.  The atmosphere of this place seemed to bring the "best" out in the both of us.  Thank you for a very memorable weekend.
-Brad and Michele
Louisville, KY
---
March 29th-April 1st, 2008
The Yin-Yang
What a wonderful place!  We enjoyed getting away from out hectic lives and slowing down a bit.  We enjoyed the cabin and everything that went alone with it, the hot tub, rocking chairs, grill, birds, barges, groundhog, and radio!  We stayed at the cabin for most part but ventured to the Buzzards Roost (recommend it) and to Ceasars in New Albany.  We are already trying to figure out when we want to come back!!  Thanks for our mini vacation Colucci Log Cabins!!
-Brandon and Leah Kirkman
Greencastle, IN
---
4/30/08-5/3/08
The Yin-Yang
This is the second year in a row that we visited the Yin-Yang cabin to celebrate our anniversary.  We love it here!  We love to watch the birds, read books in the hot tub, sit in the rockers and watch the barges and enjoy the local hospitality at Betty Ray's.  The cabin really allows us to slow down and enjoy the sample pleasures in life.  We hope to be back next year to celebrate once again!  Best wishes and thank you!
-The DePriest's
Indianapolis, IN
---
6-20-08
The Yin-Yang
Inspiring location to enjoy all of God's wonder!  Will treasure these days and take tranquil thoughts all the way back to Oklahoma City with us!
-The Brooks Family
---
6-29-08
The Yin-Yang
My wonderful man has brought me to this most beautiful place at a time in my life when stress has been overwhelming.  The last two days have been the best two days of my life.  We loved relaxing on the porch watching the river flow by so peacefully.  The hot tub is definitely awesome and I want one at home now.  We have been so happy and satisfied we hardly left the cabin.  I want to say thanks to Bud, but most of all thank you Jeff, I love you baby!
-Belinda Thonas and Jeff Billingsley
Lawrenceburg, IN
---
Aug. 15th, 2008
The Yin-Yang
The cabin is beautiful.  We loved watching the birds.  Marengo caves were amazing.  We went canoeing on Blue River.  Hard work, but it was fun!  Pontoon rental was very good, had a great time!  Kids and parents loved the hot tub.  Wonderful and relaxed four nights just before school starts!  We enjoyed everything that came with the cabin.  Thanks!
-The Pattekars
Peoria, IL
---
Aug. 22-24, 2008
The Yin-Yang
Well we're back and brought back 5 other couples!  Stayed in the Yin-Yang, Moondance and the Le Chalet.
What a perfect weekend!  Everyone was awestruck and loved just relaxing, spending times with friends!  We will definitely be back and maybe with more friends.  Think will make this a yearly event!  See ya next year!
-Halletts, Ferlings, Smiths, McCalisters, Pirtles, and Hemphills
Crawfordsville, IN
---
Aug. 24-29, 2008
The Yin-Yang
Wow!  So tranquil and restful, it almost makes you willing to get back home to our jobs, almost!  This is our 2nd visit.  My husband still enjoys the river traffic.  The hummingbirds were most fascinating.  During the week we celebrated our 15th wedding anniversary, what a great place to do so.  Thanks so much for great and beautiful place to relax.
-The Sturgeon's
Bluffton, IN
---
September 2-3, 2008
The Yin-Yang
The view here is truly a little slice of Heaven.  A perfect place to forget the hustle of the real world.  Being surrounded by the beauty, the hummingbirds, my wife's company in the hot tub, the passing of the barges and of course the times that sounded like a big system coming from that small radio.  Wow!  Melts the memory of work and troubles away.
-Don and Claudia
Wolcottville, IN
---
September 24, 2008
The Yin-Yang
We are always looking for a beautiful place along the Ohio River.  We thought we had found our favorites, but we were wrong.  Our first visit to your cabins far surpassed anything we have found before.  The time here was wonderful and we thank you for providing the watery oasis of calm.
-John and Carol
Indianapolis, IN
---
10/7-10/08
The Yin-Yang
Scattered memories of Magnet:
-Bud's hospitality
-Fog settling in at night and drifting away through the hills in the morning
-The sun rising from across the river and over the hills
-Barges lazily floating up and downstream, pushing their cargo around the bends
of the river to destinations unknown
-Sighting of the Delta Queen
-The vista from Buzzard's Roost
-Good hiking at Tipsaw Lake, Hemlock Cliffs and Oriole West
-The kindness of the locals, in particular one woman who helped guide us out of
Oriole West
-Looking forward to our return
-Brian, Michele, and Alex the Beagle
Uniontown, OH
---
10/19-22/08
The Yin-Yang
This is our first visit to Colucci Cabins but not our last.  We absolutely loved it.  It was so nice not to hear phones ringing, and dogs barking and highway traffic and all those familiar sounds from home.  It was nice to replace those sounds with birds chirping.  It has been a stressful year and this is exactly what we needed to recharge our spirits.  Thanks for everything Bud!
-Jim and Carol
Portage, IN
---
November 15-17, 2008
The Yin-Yang
First of all, thank you, thank you, thank you!  We couldn't have imagined any better way to spend our first days as husband and wife.  The Yin-Yang is the perfect place for us to get away from it all after the last few months of planning our wedding.  We plan to return next year to celebrate our first anniversary.  Everything was wonderful.  Once again, thank you to all who made our story here possible.
-Jimmy and Mandy Lain
---
February 27th– March 1st, 2009
The Yin-Yang
Dear Bud and Sally,
Thank you for the wonderful weekend.  This is an awesome and beautiful place to spend some much needed quality time with my husband before he goes back to work, since coming from Iraq.  I wish we wouldn't have waited so long.  It's been pretty cold this weekend, but we still dared the hot tub.  I got up just in time to get some awesome pictures of the sunrise this morning.  I can't wait to hang one on the wall.  This place and your hospitality (even though we never met) are much more than I imagined.  I love it here, and my husband loves it here too; and we will be back.  Thanks again for everything!!
-The Breeden's
---
April 24-26, 2009
The Yin-Yang
This was our first visit to Colucci Cabins, and what a joy is was to share it with our dear friends the Pankratz.  We were here celebrating the guys' birthday so there was much laughter, a lot of food and drinks, great hot tubing, more laughter, much needed R&R, and even a campfire and the traditional (and not so traditional) campfire songs.  This was a wonderful weekend that like so many have shared in these books, was not long enough!  May all those who come here find peace, relaxation and joy!
-Greg and Sue
Indianapolis, IN
---
May 17th, 2009
The Yin-Yang
I don't think Kyle and I could have spent our first days as a married couple in a better place.  The weather has been awesome, and the views from our cabin even more awesome, and the view from our cabin even more awesome.  Kyle really enjoyed watching the critters all around the cabin, and watching the birds at the feeder I heard something on the porch one afternoon and to my surprise there was a squirrel hanging upside down chowing on the bird feeder, ha ha!  We really enjoyed relaxing in the hot tub.  This R&R was much needed after a long year of wedding planning.  Thank you Bud for building this beautiful oasis.  I hope to bring my parents and in-laws here sometime!
-The Bletschers
Illinois
---
July 17, 2007
The Lodge
We were so pleased with the cabin.  It is beautifully furnished and immaculately clean.  The river and the surrounding scenery were very relaxing.
-The Crowley Family and Grandma
---
2007
The Lodge
Dear Bud and Sally,
It was just as you promised, "Royal Treatment".
Note: Leave all the extra stuff at home.  Colucci Lodge really does have all the comforts of home, even the can opener!
We will be back soon!
-The Rivera's
---
August 1, 2007
The Lodge
Our adventures began with a group of 12 "city-slicker" women trying to find this beautiful-view cabin named Buzzard Roost located out in the excluded wilderness.  Being directionally challenged was well…a challenge especially for one particular lady.  Somehow we all arrived safely, and our retreat officially began.
While a good portion of our time was allocated to work activities, our schedule also allowed, for being one with nature; birds singing, bees chasing, deer snorting, bats fluttering, spiders webbing, and buzzards circling.
It was around the campfire that we separated the women from the chickens.  Imaginations ran amuck.  Several were skiddish-looking and listening for "wild" animals to come out and get them.  Despite this though, laughter echoed through the woods as we, one by one shared personal stories and childhood memories from the diary room.  We learned that; a husband can be sewn up in a sheet and not even know it; a life of crime never pays; nicknames can be passed down through your father; cats are purrfect pets; a person can be called a cow pile in a nice way; a person can overcome being a runt; one is never too old to play with dolls; and that little brothers are a pain and sometimes to be eliminated.
We have enjoyed our time here at Buzzard Roost taking with us memories to last a lifetime, well maybe not a lifetime, but at least until we have our next retreat.
-Deed, Rosie Posey, Houch, Bouncy Bally, Leanie, Daffodils, Susieannadiona, Junior, Lucy, Meadow Muffin, Peebles
---
August 2-5, 2007
The Lodge
We came down from Laurence Co.  14 in all.  Every year we get a cabin for the entire family for a long weekend.  I loved the big kitchen and table.  We could almost fit the family there.  Friday we ate at the tavern on the river.  It was great.  Saturday we fished at Derby, antiqued, and played a cut throat game of Monopoly.  Sunday we went to Cannelton to the locks, it was so neat.  We love the binoculars to look at all of the barges.  It's so nice to have a large pond out back with some big fish.  We had a great time here.  We spent a lot of quality time together.  It was a wonderful vacation.
 -The Gratger's
---
3/16-18/07
The Heron's Nest
Bud and Sally,
Thanks for the wonderful accommodations.  This was a gift to ourselves for my 43rd birthday and our 22nd wedding anniversary, which are both on the 16th of March.
The cabin was beautiful and gave us both a very homey feeling.  This is definitely a place that we will gladly share with our friends and family.
We both are dreading on leaving and work is calling, but this will be a getaway we will both treasure and remember.
-Steve and Peggy
---
February 21-25, 2007
The Heron's Nest
Bud and Sally,
Thanks for the opportunity to enjoy a 12th wedding anniversary getaway.  We have been to many places in Southern Indiana and this one has now become top-o-the list.  We married in Gatlinburg, TN and this area was a similar area.
We watched the barges, birds and took a deer ride every night on the gravel road.  We even spotted a bald eagle by the memorial! Great!
Betty Rays was a nice watering hole where we met friendly people.  Food at Ramsey's and Marcy's, outstanding!  Could not believe the prices cheap but home cooked goodness.  Thank you again and see you again sometime..
-Bill and Cheri, plus Rudy
South Bend, IN
---
3-25-07
The Heron's Nest
We will take our "Colucci" moments with us and they will make us smile.  It was a very memorable time.
-Olivia, Dom, Camille, Bianca, Athena, Venus, Veronica, Charlotte, Sophia, Margarite, and Bunny
---
6/7-10/07
The Heron's Nest
Bud and Sally
Thanks for the "southern" hospitality of Colucci Cabins.  The views were AMAZING!  Reminds us of staying in Gatlinburg (less drive time).  The nights here were AWESOME!  It's very peaceful.  Thanks for making our vacation one that we won't forget!  I'm sure we will make future trips back.
-Delaware Co. Crew
---
June 14, 2008
The Heron's Nest
Our stay here was great, the cabin was more than we could have ever expected!  The view was wonderful, the scenery was great.  We loved not having a television to entertain us. The kids had way too much fun finding bugs, having a marshmallow roast and fishing, wow, it's wonderful to get away from the city!  We have made a lot of memories that we will cherish, I hope we can come back real soon!
-The Cellars and The Hales
Marion, OH
---
July 2, 2008
The Heron's Nest
This was our first visit to southern Indiana since moving to Richmond 12 years ago, now we're wondering why it took us so long!  Our kids especially enjoyed laying around doing nothing in the cabin, on the porch swing, and on the dock, and not getting yelled at for not being more productive!
We did the tourist-y things on Tuesday, canoeing, caving and lunch at The Overlook, something for everyone.  Back at the cabin, we ate supper and watched barges go by, you'd think that would be amazingly boring, but somehow it seemed adventurous to us!
With 2 kids in college and 1 in high school, this will probably be one of our last trips together.  Thanks for making it one of the best!
-The Baileys
Richmond, IN
---
July 28-20, 2008
The Heron's Nest
Magnet Valley Rd. should be renamed to Cottontail Alley.  Seriously, there is an incredible amount of wildlife around this cabin (deer, rabbits, raccoon, owls, cuckoos, herons, ducks, groundhogs, lizards, lots more).
Lots of fog on river first morning here made for some great photos.  The second morning sunrise was absolutely spectacular.  Definitely get up early and don't miss it.
The fishin was also really good.  We caught several channel and flathead catfish.  Also there is a 15-20 pounder flathead living in the log by the left of the dock facing Kentucky.
If you like trails, Hemlock Cliffs is 1.3 miles long, it's a fairly mild trail.
Overall stay here!
-The Follivers
Salsberry, IN
---
Aug 31st, 2008
The Heron's Nest
Dear Bud,
We made it back for another Labor Day weekend!  Thanks so much for making us feel so welcome.  Once again the weather was great, the views beautiful, with days full of boating and nights full of partying!  Thanks for allowing a bunch of thirty-somethings to feel and act like teenagers again!  Can't wait til next year!
-The Smith's. Payne's, Boarman's, Payne's and Burches
---
October 3-5, 2008
The Heron's Nest
We had a great time on our weekend stay; it was well worth the drive on the curvy, hilly, scary road.  The weather was great and the house and view are amazing.  We hope to be able to come again next year.  We'll recommend is to all our friends.
-Carolyn, Connie, Judie, Marty, and Sharon
---
11/27-29/08
The Heron's Nest
Bud and Sal,
Our tradition continues.  Thank you for our 6th Thanksgiving with you.  As always, the weather was wonderful, barges and river relaxing.  We so enjoy coming here it was like home each year.  It is always a pleasure to see everyone at Betty Ray's Landing.  Our time goes so fast when we are here.  Thanks again for such a relaxing place to come.  See you next year!
-The McCullough's and Hughes Family
---
1/23-25/09
The Heron's Nest
Thank you Bud for a great getaway spot, not only a lovely furnished cabin, remarkable hot tub, and spectacular views, but even the sun performed as if on cue this morning!  What a way to wake up!!  We enjoyed our stay thoroughly!  Thank you!!
-Barb and Lanny Bertram
Avon, IN
---
Feb. 15-17th, 2009
The Heron's Nest
We had our wedding reception Feb. 14th and wanted to get away for a couple of days.  We had no idea what to expect, but we absolutely loved our cabin and Bud's hospitality is truly sincere and wonderful.  We are from Evansville, IN and when we read the other entries we found it kind of funny about people counting barges.  We see them daily, but we found ourselves counting them anyways.  We hope to return soon with family.
-Cindy and Dain Carr
---
March 6-9, 2009
The Heron's Nest
I don't even know where to start!  I had an amazing and relaxing time here with my man who just got back from the war overseas.  It was a nice change of venue for him and definitely a time of comfort for me.  The view from the top is awesome!  I wish we could've stayed here forever and drank a few more beers with Betty Ray!  Thanks for everything!
-Kevin and Andrea
---
April 26, 2009
The Heron's Nest
Dear Bud,
What a great way to spend my 47th birthday!  We had a tremendous time and looking forward to returning soon.  The cabin was comfortable, cozy, and spotless!  We want to tell all our friends about it but we also want to keep is our secret!  Keep up the good work!
-Jeff and Amy Corey
---
5/11/09
The Heron's Nest
Dear Bud,
We all came down here to get away from our "sometimes" crazy lives and to celebrate 2 anniversaries (a 2nd and 23rd!!) and 2 birthdays (too old!!) and Mother's Day.  What a combo huh?
I've only been in this family (my husband's) for going on 3 years now, but I feel like it's been a lot longer.  My husband Ray, myself , his brother Don and our sister-in-law Donna have been trying to make annual trips and vacations and so far they have been wonderful, no matter where we go!  I think the company we keep is the main reason!
Don found this on his never ending vacation spot hunt on the internet! We are all pleased with his choice!  As usual!  I think we know he has all of our interests in mind when he picks a place.  I am a big winery fan and I think I may have converted them all.  We made it to 7 Indiana Wineries.  They were all wonderful.  Good wines and great people.
As for this cabin, well we have all fallen in love with it.  From the spectacular view, the chimes, the porch to the wildlife, sitting on the deck, watching the river, the debris (it rain hard), and the barges all night, what a mind and soul release.  No worries, no cares, laughing, talking, drinking wine.  It doesn't get much better.  We all look so forward to our get a ways and this one was perfect.  I feel very lucky to have been able to share this place with the people I love.  I know we will be back again.  Thank you for the chance to have a great vacation here, and for your hospitality.
-Cindy, Ray, Donna, and Don Moushey
---
5-21-09
The Heron's Nest
Dear Bud,
Thank you for the opportunity for us to enjoy God's Country at its finest.  The natural beauty is breath taking from the wee hours of the morning to the wee hours of the night.  It's nice to see the billions of stars again.
I am appreciative of all the "modern" conveniences.  I found this place because of the Internet, but boy was it nice to be without them for a few days.  I really didn't miss the gadgets.
Bud, you're a lucky man.  You never have to leave!  We will see you again!
-Renee, Arlene, and Anna
---
5-28-07
Le Chalet
Thank you Bud for sharing this piece of Heaven on earth!!  From the moment we arrived we were in awe of the scenery.  The house was great.  On Saturday we rented a pontoon from Port Derby Corp.  while fishing my husband will swear that he had a 100 lbs. fish on the line that got away!  We also had a pet while we were here, she was a hound dog with long floppy ears that we named "Shiloh".  She will be missed.  From fishing on the river to reading on the front porch this vacation was terrific.  We will definitely be back!!
-Ricardo, Ana, DeAnna, Ricky, Ashley, Jacqueline, Nelson, Lucy
---
6-16-07
Le Chalet
Bud-
Thanks for a wonderful time with our family!  This cabin was great, especially since it has 3 bathrooms!
Everything truly is awesome here, the artwork, decorations, furnishing, hot tub, etc.!  Wow!
It's also nice that you provide reading material, binoculars to enjoy the beautiful sights, sight-seeing info, jigsaw puzzle, etc.  Very thoughtful!
We highly recommend your cabins to everyone!  Thanks to Sal for providing us with an iron and ironing board,  that was so sweet of her!  God Bless you all!
-David, Sharlene, Jason, Julia, Jessica, Eric, Brody, and Wendy
---
7-7-07
Le Chalet
The Corders and Perkins;
Just in- love the 3 bathrooms and supplies on hand.  The hot tub, a plus.  After the hair pin turns and gentle y's in the road we found your paradise!  We appreciate the grand accommodations and exceptional cleanliness.  The fireworks were awesome and the echo behind them, wow, that was a first!  Would recommend a 4 wheel drive for boaters, the boat ramp was an adventure!  Bud was right when he said "fun"!!  Experienced 20 miles of glass on the river!!  Great skiing!!  Cooking in the cabin was so nice and convenient!  Don't recommend Ramsey's Tavern, but Rocky Point has a nice joint to visit and dine!  Great food-n-fun!
---
September 14-16th, 2007
Le Chalet
We love this cabin.  The surroundings are beautiful and so relaxing.  We ate at Marcy's for dinner and Ramsey's for breakfast and Betty Ray's for dinner.  We enjoyed a wonderful hike at Buzzard Roost where we got engaged at the benches overlooking the river!! We've seen deer, bunnies, turkeys and a salamander.  We loved our hummingbirds coming to feed on our porch.  We enjoyed relaxing in the hot tub and loved waking up in the loft with the sun.  This was a wonderful get away and we are sad to leave.  We are coming back soon!
-Gwen and Dave
Indianapolis, IN
---
December 31, 2007
Le Chalet
This week has been one of the best weeks of our lives.  My husband and I have decided that when we start our family, we will have to come back and share these great times with them.  Tomorrow as we head back home we will carry on with us a great time we had.  From just walking on the front porch to see the river to the back porch where we almost lived in the hot tub!  Being here was such a great and relaxing moment for us.  We hope everyone has as much fun as we did while staying here.
-Jonathan and Stacy Wilson
Darden, TN
---
May 12, 2008
Le Chalet
Beautiful, relaxing, peaceful.  The cabin was beautiful, clean and very well supplied.  Could not have asked for anything more, except for time, would love to have stayed longer.  The hot tub!!  Great!  Took several brochures to give to other family members.
-Scott, Wanda, Christopher, Thelma and Alexa
---
June 30, 2008
Le Chalet
We had such a wonderful time here at the cabin.  It was our first time visiting Magnet and the Ohio River "Colucci" cabins, and it definitely won't be our last!  We love the lofty views, the hummingbirds, the personal touches throughout the cabin, the hot tub (fun for everyone) and the wonderful curvy roads to explore nearby.  The cabins are truly works of art!  Thank you for the experience.
-Vanessa, Jake, Elena and baby Hank Nichols
---
August 24, 2008
Le Chalet
What a beautiful place to come and relax.  The accommodations were more than I ever expected.
We had such a wonderful time and enjoyed the wonderful weather.  I hope we can make this a yearly trip with our group of friends.
-Stu and Paula Hemphill, Cynthia and Scott Ferling
---
Nov, 28- Dec 3, 2008
Le Chalet
Our kids gave us this retreat as a 25th anniversary gift.  They, along with our granddaughter spent the weekend with us, and then left us here on Sunday so my husband and I could have some time alone.
So peaceful!  We had snow flurries Monday; we took a drive, so beautiful!  We have some very friendly deer that wonder around the cabins and did not seem to mind having their picture taken.
Hot tub and fire pit were enjoyed by all of us!  Thanks Bud, for providing the setting for the best family memories!
-Jane and Dave
---
Dec 25th, 2008
Le Chalet
We had a lovely time.  This is one of the most beautiful places I have been.  I love waking to the Ohio River.  Bud was such a nice guy.  We had a lovely Christmas and will remember this Christmas always.  I will make sure I let people know this is the place to be for a great vacation.  Thank you!
-The Maslegs
---
2009
Le Chalet
Dear Bud,
After covering the Obama campaign for Rolling Stones, I needed a break.  So I took the rest of my retainer, and 7 of my closest people, and came here.
I was searching for the real America, and I found it here.  Everything we needed was here.  Views.  The hot tub.  Birds.  Wind chimes. Betty Ray's.  I'll be back.
-Hunter S. Thompson, Jr.  
---
April 2008
Magnet, Indiana. Halfway between Louisville and Evansville, on the Ohio River.
Population, something way less than 200, but it still shows as a dot on the
Indiana map. The middle of nowhere. Why would anyone want to go there? We
found out.
For the last three or four years, Bud Colucci, owner of Colucci Log Cabins,
has invited us to spend some time vacationing in one of his cabins. When we
were not already committed, or were planning on being in the area, his cabins
were full, as they are much of the time. This year, we were finally able to
get our calendar and his appointment book to show an opening at the same time.
We scheduled a two day stay in the "Moondance", one of his six cabins, for
late April.
Now when I say "log cabin", I don't mean some rustic, tiny, shack with an
outdoor privy. These places are luxurious. Our getaway lodging for this trip
would comfortably sleep six people, (the smallest of Bud's offerings). It was
equipped with washer, dryer, dishwasher, refrigerator with icemaker, stove,
microwave, central gas heat and air conditioning, two bathrooms, queen size
beds, two large ceiling fans, a wraparound wooden deck, gas grill, and a
spacious hot tub on the covered porch. It included sheets, linens, and kitchen
dishes, etc. All of his cabins come fully equipped and while ours was sized
for six guests, one of the others could accommodate 22 people. The other four
fall somewhere between those two.
While most of our outings are designed to keep us active from early morning
until late evening, doing a wide variety of outdoor activities, this time we
decided to relax. This was the ideal place to do just that. At home, we are
both up and busy before 6:00 AM. In our upstairs loft in the Moondance,
surrounded by floor, walls, and ceiling of wood, we lay in the queen size bed
looking out the large front windows at the barge traffic churning by on the
Ohio until 8 o'clock. We watched the gorgeous sunrise coming up over the farm
across the river in Kentucky, directly east of us. (Yes, because of a turn in
the river, Kentucky is due east of Indiana at this location!)
After a quick breakfast, we decided to relax awhile in the hot tub on the
porch. I grabbed a cold Pepsi, my camera, and the 12 power binoculars which
were in the cabin. I had earlier set the water temperature on 98 degrees (It
will go up to 104.) Almost immediately, a string of 15 barges (three wide and
five long) appeared coming around the bend downstream from us. While this was
becoming a common sight, (they came by about every 30 to 60 minutes), each was
different, and I snapped pictures as they passed by. At night, all we could
see were the lights on the front barge and the boat pushing the string.
Several times, we had two passing our cabin in the dark at the same time. They
then used searchlights to sweep the shoreline to check their distance.
After leaving the hot tub, we decided to do some easy hiking. The road
followed the base of the limestone and sandstone bluff behind the cabins. I
was able to photograph some wildflowers I hadn't seen before. I jotted some
notes on characteristics to check in my field guide which I had forgotten to
bring. We then drove to a nearby spot in the Hoosier National Forest which had
a marked hiking trail and enjoyed the scenery there for another hour.
Horseback trails were also marked here. While I didn't hear any turkeys, I'm
sure they were around and we saw plenty of deer sign.
You will not find any chain eating establishments nearby. This was fine
with us, as we always eat at the favorite local places when we travel. Our
first night we visited Betty Ray's Landing in walking distance from our cabin.
I had the frog legs and spicy fries, plus outstanding corn nuggets and
delicious hot rolls. Susie of course had the shrimp. The next night we drove
nine miles to Marcy's in nearby Leopold. Once again, I had the frog legs. For
some reason, I can't find them in most places in Indiana. Susie ordered a pork
chop. When it arrived, it was a huge chop about an inch and a half thick and
covering most of the plate. This is one of the reasons we like the small,
local eateries!
While tiny itself, Magnet sits in the middle of a wide variety of tourist
attractions. Marengo and Wyandotte Caves and Squire Boone Caverns are all
within 25 to 45 minutes away. Cave Country Canoes on the State Scenic Blue
River is less than a 40 minute drive. For the kids, young or old, Holiday
World Splashin' Safari is 45 minutes. Ski, pleasure and pontoon boat rentals
and canoe and kayak trips are within 15 minutes. Numerous wineries dot the
surrounding area. If you are interested in the larger cities for horseracing
or riverboat gambling, Louisville and Evansville are both an hour drive. Golf
courses are scattered in a variety of spots from 25 to 60 minutes away from
your cabin. Historic Corydon, Indiana's first state capitol is a half hour
drive. Biking trails are numerous through Perry and the surrounding counties.
Much more awaits the traveler who visits this southern tip of the Hoosier
state.
Colucci's Cabins are great for just relaxing like we did. We didn't turn on
the TV. Our cell phones were off until we turned them on long enough each
evening to call our daughter and check on the grandson. No alarm clock, no
traffic. We slept late and enjoyed the hot tub three times a day.
But for those so inclined, there is enough here to keep the entire family busy
from daylight to dark. In fact, this would be an outstanding spot for your
next family reunion. Reading the guest book in just our cabin, we found
entries from couples on their honeymoon, anniversaries, and birthdays. The
week after we left, the cabin next to ours was to be the site of an outdoor
wedding!
For more information on Colucci's Log Cabins on the Ohio River, log on to
www.coluccirivercabins.com. You can call the office at 1-812-843-56461-877-275-5642 or Bud's
cell number is 812-719-0955812-719-0955. Drop him an e-mail at logcabins@psci.net. I
should stress the cabins are extremely popular and you must book well in
advance to be sure of your choice date. Weekends, summer, and fall color
season are especially busy.
We met some of the neighbors who lived near our cabin. They must not have
complained much about us because Bud has invited us to return. Hopefully, we
can get our calendars to match again soon.
The author may be reached at
eyewrite4u@aol.com.
Rich & Susie Creason
---
February 9-11, 2007
Bud,
Your sign welcomes the weary traveler, invites them in, encourages them to
make themselves at home. It seems that in a world that is filled with turmoil,
complicated foreign affairs and uncertainty, you offer a respite. I know that
we have made Colucci a tradition. Tracey and I have been here several times.
Each time has brought us closer together. It allows us to be quiet together,
listening to music, cooking meals, long car rides through Leopold, St. Croix,
Winzerwald, Tell City (where we discovered "Capers", GREAT place) back through
Rome and Derby and finally back to the Heron's Nest to unwind with a bottle of
wine, some stargazing in the hot tub and a restful nights sleep.
A cup of Tracy's coffee on the deck, looking at the living painting that is
the Ohio, builds our spirits, I think people sometimes wonder about their
legacy. They ask, what will my name mean? Tracey and I have a code word "COLUCCI".
WE use it to sooth us in troubled times, to remember peacefulness. To remind
us of what is important. We smile when we say this word, we say it as a prayer
and as a promise. Thanks for sharing your gifts with us!
Jerry & Tracey
Greencastle, IN
---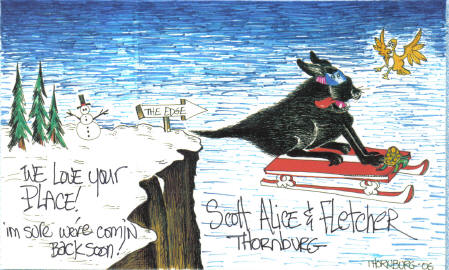 ---
October 8th, 2006
What a beautiful experience! The cabin, the view, the wine, th hot tub, and
the beautiful moon rise that filled the sky and forest surrounding us in blue
twilight will be unforgettable. Thank you Bud for everything! We will always
remember our special 10th Anniversary with happiness and wonder!
Kale & Amanda Slater
Noblesville, IN
---
September 10th, 2006
As soon as we arrived, we felt like we found a piece of Heaven. The Ohio
River view, the farm across the other side, the barges, the boats, the Coyotes
crying at night, the wildlife raccoon, and I think it was a beaver. Then while
sitting and relaxing in the hot tub enjoying the view, two doves flew up,
watching them walk around the cabin. Couldn't ask for a better place to relax,
get away from the real world, celebrate 19th Anniversary, and get rid of the
everyday stress. It's wonderful. I can't wait to come back, it was too short.
Bud thanks for sharing this moment with us. We will be seeing you soon. God
Bless.
Chris & Michelle
Kentucky


---
August 15th-17th, 2006
What a way to get away from it all. Meeting Bud was only surpassed by the
excitement of opening the door to the "condo-cabin". Even though my sister and
I are Hoosiers, this felt like so many of our vacations we take to get away,
and here we are a hop, skip, and a jump away from home. An encore will happen!
Saw an eagle and so much wildlife, as well as the multi-photographed barges.
Retirement definitely has its pluses. Thanks for an incredible time and a
perfect place to just kick back. Bud, you really had a great idea when you
built these cabins. They are beautiful!
Jenny & Carole
---
August 11th-13th, 2006
We had a great/relaxing weekend! Spending time on the river with someone
you love is like heaven. I will never forget this weekend. I fell more and
more in love with each day.
Denise & Jim
Ohio
---
August 4th- 6th, 2006
We had a wonderful and a relaxing time here. My husband loves the nature
and the water, there for this is the ideal place. We needed some peace and
quite, this was just the place. Thank you for our time here, we will come back
with the family and share with them.
Sherri & Tony Coakley
Dickson, KY
---
2006
We love it here! The view is great, and the house is very comfortable. The
first night that we came here, a big thunderstorm started. There was loud
crashes. You could hardly tell the sky from the water, it was beautiful. Then
came the pink sunset. I slept very well, and I am really hoping to return,
next time we will bring our dog!
The Shearons
---
June 30-July 1st, 2006
Wow! What a super place and a marvelous experience. The cabin earns
"2-thumbs up" and the atmosphere was peaceful and refreshing. We will
definitely be back for more R & R. Again, happiness and thanks!
The Schleters
Kurt, Peg, Scott & Meg
Greenfield, IN
---
June 19th-23rd, 2006
Looking for a peaceful get away, I came upon Colucci Cabins on the river.
Beautiful! The brochure is "nice", but the real thing is awesome! A little
scary pulling in while quarter size hail was coming down. we finally made it.
Thank you Bud for making my children and me feel very welcome. We love the
view, went on a pontoon boat ride, traveled the winding country roads
(sometimes not on purpose), always made it back to the Yin-Yang though. The
hot tub was so relaxing. This are makes you forget all your problems and fills
your head with comfort. Even the three teenagers and one pre-teen say they
would come here again. Even our six month old. Cavishon puppy had a blast, he
swam in the river the day we took the pontoon boat out. We drove into Kentucky
today so we could say we've been there! The hills are truly sometimes
breathtaking. Every one is so friendly here. Sometimes you don't always get
when you go on vacation. Thank you for making this vacation one of the best.
Sue Schwietert, Cassie Schwietert, Katelyn Cunningham,
Jason Schwietert, Sam Schwietert
Chicago,IL
---
June 16th-19th, 2006
What a wonderful and relaxing place to be! We enjoyed a great Father's Day
weekend away from the hustle and bustle of home. We definitely want to bring
back our children and grandchildren for a special weekend sometime. Thanks for
sharing with us!
The West's
---
May 23rd-26th, 2006
What an awesome place to relax and enjoy nature! The view was fantastic.
Enjoyed exploring Tipsaw Park, Derby, Rocky Point and Overlook restaurant in
Leavenworth. Time went by too fast! Enjoyed the hot tub, deck, view, weather,
even the storms were beautiful to watch from the decks. We'll be back!!
The McHughs & The Leibs
Indianapolis & Noblesville, IN
---
May 19th-23rd, 2006
Bud, you really have a retirement dream come true! This place is awesome.
We hiked the Hemlock Cliffs and crawled around the cliffs for awhile. Kayaked
the fourteen mile trek and drove scenic 66 to the covered bridge. We tried to
walk around downtown Tell City, but everything is closed on Mondays. The Locks
were neat in Cannelton. We enjoyed some evening walks, fires, and of course
the hot tub! I had a wonderful time back with nature and the man I love with
all of my heart. I can't wait to come back to the Moondance with the kids to
show them all the wonderful things around here.
Kevin & Amy
Fort Wayne, IN
---
May 6th-7th, 2006
This was our second stay at your beautiful cabin within a year! We were
glad to make it this weekend, because it was derby weekend and we wanted to
avoid all the Derby "hoopla"!! It was a nice weekend, lots of peace and quiet!
We enjoyed eating at Marcy's Sunday afternoon. The food was great, the fried
chicken was just like Grandma's, didn't get to try the ribs, but maybe next
time. We love the deck, the hot tub, and the rocking chairs, I feel like I'm
on the delta Queen again! Thanks for a wonderful weekend! Thanks also to
Sally, she works so hard! God created a beautiful place for man to live!
Dave & Sue Snyder
Corydon, IN
---
May 1st, 2006
Beautiful, peaceful days that rode the currents downstream too fast. Days
divided by sounds, the morning thrill of the birds, the bubbling symphony of
the hot tub, the hush of the rain as it sprinkled on each blade of grass, the
beat of the music plying on the radio deep into the night, beautiful days!
M'lis& Rob
Chicago, IL
---
April 24th-26th, 2006
We chose Colucci Cabins to celebrate our 35th wedding anniversary. Bud, you
recommended the "Yin-Yang", you did good!! We loved it. Sally even had it
decorated for our special occasion. We had a romantic candle light dinner.
What a nice way to spend a couple of days. Thanks to all of you, our 35th was
very special. We hope to return to this lovely cabin again. God bless you!
Dan & Sherry Schmitt
---
Easter Sunday 2006
We're leaving today. Had an adventurous weekend that started as we canoed
down the Blue River. We started at Fredericksburg and canoed 12 miles. The
livery quickly exclaimed that we were from the flat land of Fort Wayne. The
hills and rock formation were a wonderful site. We saw a lot of deer, we saw a
turkey, he flew right in front of our canoe. 88 degrees, many. many turtles
and no one else in the river. We reached the Moon Dance and it was a perfect
sight, as with everyone else, we enjoyed the view and the sounds of nature.
Saturday we drove down the scenic Ohio River, another hot day 86 degrees, so
we went to the Wyandotte Cave to cool off, 52 degrees, that was great. The
caves are really interesting and you can stop in Leavenworth and see the
magnificent view. Oh, we also went to the Buzzards Roost, hick there and along
our travel we saw five or six buzzards, perched and waiting, great view! Chops
on the grill and campfire, with a few cold beers really topped off our
evening! Best of all we got to see the full Moondance all weekend, it rose
about 9 p.m. bright orange and then along with the stars, reflected light on
the beautiful river, white and full.
Tom Lucas & Gale
Fort Wayne, IN
---
March 31st, 2006
We came to get away from our chaotic lives and to have the opportunity to
remember our lost brother/ son without interruption. What a perfect place to
do so! The peace and quiet is so unbelievably all-consuming that within
minutes you feel like a completely renewed person. What a wonderful getaway!
Laura, Janet, Gerry
Indianapolis, IN
---
March 16th-19th, 2006
We came for a lazy get away weekend and had a wonderful, relaxing time. We
enjoyed the beautiful cabin, the river view, and watching the cardinals
nuthatches, chickadees, and woodpeckers right outside our window. The hot tub
was wonderful, especially with a full moon shinning on the water! Another
special treat was a hike up river where we discovered a patch of daffodils
growing in the woods and a beautiful waterfall. We enjoyed an excellent meal
at Betty Ray's but mostly we ate in and took advantage of the kitchen with all
the necessities, except pepper. This weekend will always be a special memory
for us and we will be back.
Becky & Randy
Oakland City, Indiana
---
February 3rd-5th, 2006
Bud and Jackie,
Much more than we could have dreamed! Thank you for providing a "paradise"
for anyone.
John & Nerra
---
February 3rd-4th, 2006
We were here for a weekend getaway, loved the cabin, the accommodations are
top-notch. We enjoyed watching the barges go back and forth. Had a great
dinner at Marcy's. We loved being able to sit in the hot tub while it snowed!
Thanks and we hope to be back!
Lucas'
---
December 30th, 2005
Bud,
We had a wonderful time bringing in the New year. The cabin is great. We
all relaxed a lot a partied even more. Sure hope we can all get together and
come back again sometime. You have a great place here. Especially the
recliner! Thanks.
The Girls from Dayton
---
December 9th- 11th, 2005
We had a magical weekend! Beautiful sunrise and good friends made for a
relaxing weekend. This is a beautiful place. A great anniversary trip for us.
Thanks!
Brett & Sandy Powell
Bruce & Becky Schulenburg
Rick & Diana Ballinger
Mike & Heather Terry
---
November 3rd-6th, 2005
Bud, Jackie, Sally,
We really had a great time here. This was the perfect get away for a
mini-vacation. The cabin is gorgeous and the surroundings, WOW! So peaceful
and quite, perfect in every way. Enjoyed the hot tub too! Hope to see you
again soon!
Robert & Sandy Collins
Waco, KY
---
September 21st, 2005
Each year we gather
To reflect on the past
Hoping each time
It won't be our last
Our blessings are many
Our complaints are few
We had a great time
Many thanks to you!
The Alaska (Pinochle)
Gang
The Bergs, Chattanooga, TN
The Osborns, Fillmore, IN
The Hickerson's, Avon, IN
---
August 28th, 2005
Dear Bud,
We had a great time. What a great place to celebrate our 33rd wedding
anniversary. The kids enjoyed it. The wrap around porch was great for their
bikes. The weather was perfect. We will tell other people about this great
hide away!
Pat & Leray
---
August 19th-21st, 2005
The weekend here was incredible. The scenery, the cabin, and wonerful
friends made this a very memorable vacation. God bless you and your family for
providing a place such as this! Thank you!

Phil &Mindi Raber
Loogootee, IN
---
July 28th, 2005
We had a wonderful time here. We boated, went to Holiday World, and boated
some more! the cabins are beautiful and the view is spectacular! We had seven
people ranging from 46 years old to 3 and a half years old, and a good time
was had by all!
Andy & Tina Sawyer
w/ Katy, Brooke, Drew, Riley & Sabrina
---
July 13th, 2005
Dear Bud,
The cabin was fantastic. Had a wonderful time watching boats on the river,
even with all of the rain! Seen a lot of wildlife, the view is fabulous no
matter where you are. We will definitely be back and will tell all of our
friends. Keep building, your gonna need the cabins!
Thanks and We'll be back!
Bruce & Lynda Dunn
Seymour, Indiana
---
July 10th, 2005
We had a great time, the cabin was great, packed with people. We played
cards, charades, went canoeing, golfing and sang by the campfire. All in all
it was a wonderful weekend, with a beautiful setting. Thank you!
The Taylor Family Reunion
Indianapolis, IN
---
June 5th, 2005
Dear Bud,
Thank you so much for everything!! It is a very beautiful and romantic
place to spend an anniversary weekend. You truly are a blessing! You'll never
know how much this has meant to us! God bless you and have a nice day!
David & Sharlene


---
March 26, 2005
First of all, thank you for the sweet Easter flowers and note, it was
extremely thoughtful! What a truly unique cabin experience! The kids loved
exploring all four levels! We hiked during the day. Came back threw our muddy
clothes in the incredibly nice washer and dryer, put our jammies on and hung
out! Dillon caught a catfish right outside the cabin, Teddy discovered a cave
on one of our hikes, Scotlin collected snail shells, Nash ran everywhere, and
Mommy and Papa just enjoyed it all! It came to an end too quick and we are
regretablely dragging ourselves out of the cabin today after four days of
bliss. Your cabin is beautiful and your hospitality is refreshing! Thank you
for a great vacation!
Jon (papa),
Kimberly(mommy)Theadoshia, Teddy, Dillon, Scotlin, and Nash
Frankfort, Indiana
---
February 13th, 2005
happy Valentine's Day! A surprise from my husband. We had a relaxing
weekend, loved the cabin! Thanks for the tip about the ribs in Leopold. They
were the best we have ever eaten!
Chris & Jessica Dodds
Ellettsville, IN
---
Winter 2004
CABINS ON THE OHIO RIVER TRULY A "REST BY THE WATER'S EDGE"
It was a weekend to remember, even if we didn't DO a lot. When my husband
Bennie and I drove down to the Ohio River, we were drawn to Magnet (pun
intended), mainly because we had a reservation to stay in a beautiful Colucci
Cabin, and we were greeted by Bud Colucci himself, who made sure we were
comfortable in the "Yin-Yang" cabin, then made himself scarce, so we could
enjoy our solitude for an entire weekend.
And enjoy we did! We had a wonderful view of the Ohio River, where we could
sit in our Hot Tub on the wraparound porch and watch the barges float by while
the snow gently drifted down. Even from the loft that was our bedroom for the
weekend, we enjoyed the view of the river. At night we could see the lights of
the barges as they chugged by. With the fully equipped kitchen, two bathrooms,
two bedrooms, washer / dryer and a TV with VCR, we could have been set for
quite a while. The kitchen had everything you would want: microwave, coffee
maker (a necessity for me!), toaster, blender, dishwasher, dishes, glasses,
pots and pans — the works!
Colucci Cabins on the Ohio River is home to several cabins of various
sizes, all right on the mighty Ohio. They are simply beautiful, and
beautifully simple, with solid wood furniture, wood floors and throw rugs,
large windows (all with mini-blinds) and comfy furniture, including a couch
that had a hide-a-bed. One of the smaller cabins, the "Yin-Yang" could have
slept six. Although simple in design and decor, the cabin had all the comforts
of home — and more.
Magnet is not a big town, but we took advantage of that small town flavor
and ate at the local restaurant, where the locals gather to visit.
We ate some of the best ribs we'd ever had at nearby Leopold at Marcy's
Restaurant. Bud had told us it was the best ribs we'd find in the area. It
was! There the locals filled the family side of the restaurant, while others
filled the bar area.
When we had had enough quiet reading and watching movies, we went
exploring. We were curious about a sign that simply said "Buzzard Roost", so
we took a drive up on the cliff over looking the cabins. It turns out it was a
National Forest Recreation Center, and there are 60,000 acres of Hoosier
National Forest right in that area. We were able to hike through the snow, and
enjoy the views of the woods and the creeks. The road that runs along the
cliff gives a breathtaking view of the river. Because we were up much higher,
we had a much broader view of the wide bend in the river.
Colucci Cabins are open all year. Bud owns the cabins, which number five
right now. The two larger cabins are the "Heron's Nest" (featured on the cover
of this magazine) and the "Bonnie Pearl". They sleep six to eighteen people
comfortably and all feature wrap around porches, porch swings, rocking chairs
and gas grills, in addition to all the other amenities all the cabins have.
The cabins are about two and a half hours from Indianapolis.
We'll be back!

Martha Hall
---
October 5th, 2004
Thanks for another great weekend, only thing to make it better would be if
we could stay longer! Look forward to next year, back to the Heron's Nest. The
hot tub is great!
Mary & Steve Hammond
Betty & Donnie Scaggs
---
September 26th, 2004
Four long time friends left hubbies, babies, and dogs at home to soak in a
hot tub on the Ohio River! Perfect escape, it was great to leaves the stress
and worries of everyday life back in the city and catch up! Watched old
movies, ate a lot of food and drank too much beer and martinis! Beautiful
cabin, great view, hope to be back again!
Teri Currens, Angela
Kohl,
Sandra Wilson, & Christy Vaughn
Louisville, KY
---
August 27th, 2004
Wow! My husband just surprised me with this wonderful cabin retreat for our
25th Anniversary. This is like a dream, something you'd see only on the
movies. Words can't describe the awe. Thanks Bud for making your cabins
something, normal everyday people can afford!! They are awesome!
Rick & Terri, The Ross's
Lafayette, IN
---
2004
Home sweet home! What a comfortable, relaxing, beautiful place. Our one
night stay just wasn't long enough. Our first visit here won't be our last.
This was a wonderful experience. Thanks Bud!
Daryl, Shea, & Mackala Strectur
---
August 6th-8th, 2004
We had a wonderful time checking out the surrounding area. Just beautiful
and very relaxing! Wish we had more time, but we're heading back to golf.
Nancy & Bob Tompkins and
the Newlyweds
Vill & Craig Tompkins
---
July 25th-28th, 2004
We had a relaxing time, the river, the birds, the hot tub, seems like we
had everything you would need or want. This is a great place to get away from
it all, but in a very comfortable atmosphere.
Jimmy, Melissa & Brianna Carroll
Andria Briscoe
---
2004
Thank you Mr. and Mrs. Colucci for a beautiful cabin. As Arnold
Swarzenagger would say, "I'll be back", but next time there'll be more of us,
look out!
Ken & Tanya Howe
John & Robyn Kennedy
---
March 13th-15th,2004
You never know what life is going to throw at you, cancer, teenagers,
loosing your job of thirty years, being married to your perfect match or
twenty-three years, coming to this beautiful place reaffirms life is good and
we can handle whatever is coming our way. I just hope it comes with a river as
good ad this!
Sue & Dan Danehe
---
January 24th, 2004
Coming to this cabin was such a great idea! The peace and tranquility was
so refreshing. The five people that stayed here this weekend are always
seeking spiritual experience and I believe that it was achieved. Just to be
able to sit and enjoy the lack of noise was incredible. Just knowing there is
this place to come to when needed is very nice to know.
Thank You
---
January 1st, 2004
What a wonderful place! Secluded, quiet, relaxing! When you live in a busy
city, this takes all of the busy, rush, hectic life right out of your system.
This place puts the romance back in your relationship! "Yin" and "Yang", that
could be Bill and me, total opposites, day and night. yet a place like this
can in some way make us both "Yang". Thought we have many differenced, there
isn't much that can stress you out here!! The hot tub does wonders for stress!
Grill out, party, soak in the hot tub, nothing matters at all here. What a
great place, thanks Bud!
Bill Brunle & Jody R***
Noblesville, IN
---
November 30th- December 1st, 2004
Although our trip from Anderson, Indiana was through constant rain, fog and
cold; our arrival was met by three sets of deer eyes, a barge and a flood of
classical music into another world! Yes, we have been relaxed! This morning
offered the sun pouring into the room. The sounds of wind and birds simply
makes us want to remain a few more, years! We shall return. Thank you for
sharing!
Jim & Vickie King
Anderson, Indiana
---
November 6th-9th, 2004
What a wonderful place for our 40th Wedding Anniversary! We love the cabin.
Highlights were the bald eagle that flew close by the windows, seeing the
Delta Queen go by at night, Northern Lights, birds at the bird feeder, and the
view everywhere. Good selection of books. Meals at Marcy's and Betty Ray's
were great. I hope to come back with more family next time.
Candy & Dave Haenszel
Lamar, Indiana
---
October 31st, 2004
Happy Halloween! Thank you for greeting us and your hospitality. The hot
tub was a great addition to an already perfect cabin. The weather has been
just wonderful for this time of year. There were very few barges this year
compared to last year, we only saw seven. We drove down to Derby and Cannelton
which was a great drive. Great cabin, great weather, great friends, a truly
great weekend! Thanks again!
Brian Marcum & family
Sheridon, IN
---
October 28th-29th, 2004
Bud and Jackie,
We enjoyed our stay at "The Heron's Nest". We tool your advice and explored
the scenery at "Buzzard Roost" and "Hemlock Cliffs". The ribs at Marcy's are
delicious! We had a great time watching the deer, birds and barges passing by
on the river. The girls had a relaxing time soaking in the hot tub. We hope to
return with out parents.
Brian, Amanda, Victoria &
Hillary Brown
Anderson, Indiana

---
October 12th, 2004
This is my first experience with a log cabin on the river. It was such a
nice one! I hope that on my wedding day, someone tells us that they got us a
week here, so I could come back and enjoy it all again!
Chris Wetlstain& Nicole
Hylton
Hawesville, Kentucky
---
October 12th, 2004
You have a little piece of Heaven out here! I wish we weren't leaving
today. The stress we came with is gone, but only until we return to the real
world, where it is waiting for us. We will definitely be back! I haven't felt
this relaxed and happy for a long time. Thanks for having us!
Joan & Dave Wetlstain
Hawesville, Kentucky

---
2004
Bud, thank you once again! We've been here 3 years in a row. It's a great
place to get away. Our Dad is 92 and it's so great watching him enjoy the
river. See you in the spring!
The Gethers, Bundes,
Buhls, & Stearns
---
July 30th, 2004
What a fantastic week! Believe me, we took advantage of all that the cabin
has to offer, we swam, soaked in the hot tub, whirlpooled in the heart. Rocked
in the rockers. Fed the birds. Howard nearly wore out the recliner! We did a
whole lotta relaxin! Thank you! Everything we needed was at our fingertips. We
also got lots of ideas for the home we are building. We hope to get back here!
Howard Lindly, Jan & Emily Perigo and Audrey Hanner
---
July 17th-19th, 2004
Arrived here on Saturday from a stop at Lincoln City where we learned lots
of new facts about our Civil War President. We watched the sunrise in the
peacefulness of mooing cows, jumping fish and singing birds. We found a very
unique memorial to ten Civil War veterans down the road from Betty Ray's
(where the black top ends). The Overlook Restaurant in Leavenworth was well
worth the trip! Jim enjoyed the Brancusi book. We all really enjoyed our stay
here in your beautiful cabin. Hope to return and bring more of our family.
Debbie & Ron Newman
Diana & Jim Kolibob
from Cincinnati
---
June 25th, 2004
To further tell you of our journey,
a full rainbow we did see,
I stood out on the porch,
with seven more like me.
We sat staring at the sky,
over yonder we did look,
then we all went on our way,
to write it in this book.
So for the others staying here,
remember this when it's cold,
where there is a rainbow,
there is a pot of gold.
Kelly Warncke from
Cincinatti
---
June 25th, 2004
A group of eight
Bought some bait
Went to the lake
In hopes to make
A dinner of fish.
The fish didn't bite
We ran out of light
Pizza at Betty Ray's
A beer to end the day
We didn't have to wash a dish.
The tubing was fun
We got lots of sun
Then it was time to clean the cabin
And talk of the good time we'd been a havin'
The Heron's Nest we surely will miss.
The Brooks from Findlay
and Ayersville
The Henkel- Moellmans from Cincinnati
---
April 6th-8th, 2004
We knew from the pictures on the website that this cabin would be nice, but
we were still pleasantly surprised. We had a great time. The weather was
beautiful. It was worth the four hour drive! We had planned on visiting some
of the local attractions, but ended up soaking in the hot tub and watching the
barges go by. Thanks for a wonderful vacation. We'd love to come back.
The Sreens family
Huntington, Indiana
---
April 2nd-4th, 2004
Bud, thanks for your hospitality. We really enjoyed our relaxing weekend.
Good ribs at Marcy's, recommended. We also enjoyed the view from the Buzzards
Roost, definitely worth the short drive. Sat out on the deck, 60 degrees,
sunny, smoked a cigar and watched the barges roll by, very relaxing! We didn't
get a chance to fire up the fire pit, but we will next time, we'll definitely
be back!
Thanks,
Brad, Kathi, Ashley & Chelsea
The Garland's
Westfield, Indiana

---
November 10th-11th, 2003
What a beautiful place and so quiet and peaceful! Couldn't have picked a
better place to "get away" and enjoy our 28th Anniversary. Thanks a lot!
Bill & Donna Pinkston
Harrisburg, IL

---
October 31st, 2003
Beautiful place, and new friends. Thanks Again!
Pvt. John Collins
Jim Wallace
Discovery Expedition of St. Charles
---
October 12th- 13th, 2003
We enjoyed everything about the cabin. The hot tub was great! The view was
out of this world! Thanks Bud and Jackie. We hope to see you soon. Until the
next time, God Bless you!
Gary & Linda King
---
2003
We truly enjoyed our stay. The Ying Yang cabin had a fabulous view,
peaceful setting, awesome hot tubs and is tastefully decorated. My sons
favorite was roasting marshmallows on an open fire, mine was relaxing in the
hot tub, my husband's was the view. Unfortunately we must return to the city,
but we are refreshed. We hope to return to unwind again.
Alecia, Jim & Riley Mullen
Indianapolis, Indiana
---
August 12th-14th, 2004
So glad we decided to spend our 10th Anniversary here. We wanted a "family
friendly" atmosphere and we found it here! I work at a retreat center and we
pride ourselves on hospitality. I'd have to say you've got us beat. You have
thought of everything from bird feeders and campfires to blenders and
binoculars. The Moondance was so much more than we expected. The friendly
welcome from bud got us off to a super start. Thanks for the wonderful
memories. They are priceless.
Duane, Anita,
Jesse & Kaylee Aders
---
August 10th-12th, 2003
What a super get-away! Great location and the view was marvelous! We are
looking forward to another visit to the Ying Yang.
The Binins
Carmel, Indiana

---
August 10, 2003
We wanted something a little different from the city life we live. This is
ABSOLUTELY it! Everything we needed was here. I can't think of anything we
needed extra that wasn't already here. The view and the atmosphere here are
breath taking! Thanks again for a well spent VACATION! We will see you again
real soon! Thanks!
Haynes Family
Indianapolis, IN
---
August 8th-10th, 2003
Thanks for helping a couple of VERY stressed-out people relax!
Greg & Jenny Dutton
Louisville, Kentucky

---
July 16th-17th, 2003
Absolutely lovely to stay this time in the Ying Yang cabin. Bud, Jackie,
you've done it! After staying in the Bonnie Pearl, we didn't know it could get
any better! The hot tub puts it over the top. Thank you, thank you, thank you!
See you again next month!
Gene & Evelyn Windell
Jasper, Indiana
---
April 13th, 2002
Thank you for letting us enjoy your beautiful cabin. Wish we could have
stayed longer. It was nice getting back to nature. Hopefully we can stay
longer next time.
Jenny Pickett
and my wonderful youth small group
from Central Christian Church
Carmel, Indiana

---
March 12th, 2002
These past two days had made a great spring break for me and was a great
pre-birthday present for Stephanie. We had the chance to see many beautiful
places. The cabin is awesome and very cozy. It'll be great in the summer when
we come back. We plan on coming back for the next spring break, Florida
doesn't have anything on this place!
Thanks,
Josh Reynolds & Stephanie Corbett
---
February 9th, 2002
We showed up out of nowhere made a phone call and you were here. Thank you
so much for turning this beautiful place over to us for two days. Dick used to
work on the barges twenty years ago and watching them go up and down the river
really has brought a lot of memories back to him! We took off Friday afternoon
and headed south were we ended up at the BEST PLACE IN INDIANA. Thank you so
much for two great days. We have too a ton of pictures to take home and show
our families. We all will be back!
Thank you,
Dick Phelps & Lori Eyestone
Veedersburg, Indiana
---
December 7th-9th, 2001
Jackie and Bud,
p>We shared our weekend with Jason and Amber to spend time for the holidays.
The Heron's Nest was more beautiful than we expected. You definitely have a
place to be proud of and I hope we have left the cabin for others to share its
magic. The river scenery is splendid. Thanks you so much for the comfort and
accommodations.
Jeremy and Kari
"The Derby City"
Louisville, KY
---
December 7th-9th, 2001
Jackie and Bud!!
The Heron's Nest is pure heaven. We came up with our friends Chapeel and
Carrie. It was nice to kick back and enjoy good conversations, beautiful
scenery, peaceful sounds and spending time with our friends. The house is
wonderful. My husband Jason was impressed with the little stereo and it's
capability to fill the cabin with music, which is important to him. I was
impressed with how well stocked the cabin was. It was extremely accommodating.
We will be back again. We are planning a yearly went. Thanks for offering a
wonderful peace to kick back and relax with our loved ones.
Amber and Jason Gayer
Tell City, Indiana